Research ICT Africa (RIA)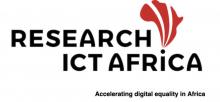 Research ICT Africa (RIA) is an African think tank that has operated for over a decade to fill a strategic gap in the development of a sustainable information society and digital economy. It has done so by building the multidisciplinary research capacity needed to inform evidence-based policy and effective regulation Africa. RIA's dynamic and evolving research agenda examines the uneven distribution of the benefits and harms of the intensifying global processes of digitalisation and datafication.
Project Team: Dr Alison Gillwald, Dr Araba Sey (Project lead), Mariama Deen-Swarray, Naila Govan-Vassen, Chenai Chair.